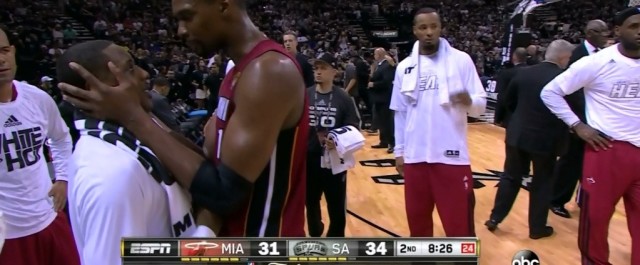 Nobody knows what is wrong with Mario Chalmers. It may be his upcoming contract issues getting in the or it may be other off the court issues.
It was expected for Mario Chalmers to be the x-factor for the Miami Heat during the NBA Finals, but he has been everything but that. Chalmers is often seen as a punching bag for LeBron James, Dwyane Wade, Chris Bosh, but he is actually a key player for the Heat. Chalmers has the ability to penetrate and he is a good three-point shooter.
Everyone knows that the Heat is going to lose the point guard battle going against Tony Parker of the Spurs, but at this point it has been laughable. Chalmers has turned the ball over at a high rate, and he is only shooting 25% from the field. Chalmers is usually good for a few out of character 20 point games in big moments, but that has not been the case thus far. In the past two years in the NBA Finals, Chalmers has been one of the Heat's best players. Last season Chalmers out scored Parker in games 6 and 7 , and the year prior to that against the Thunder he had a huge 25 point game in game 4 of that series. The Heat need Chalmers to step up on both sides of the ball.
For a player that is normally over confident in his abilities it is strange to see Chalmers lose confidence at this point of the season. Game 4 is crucial for the Heat, and No.15 will have to show up.
In tonight's Game 4 Chalmers may need to turn back the clock and pull out the same performance as he did in 2012 against the OKC Thunder. The Heat can't afford for Chalmers to go missing, and it's time for him to shake off the cobwebs and show up for the rest of the series.