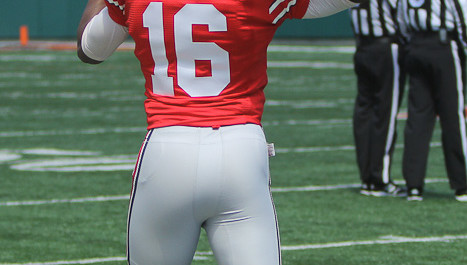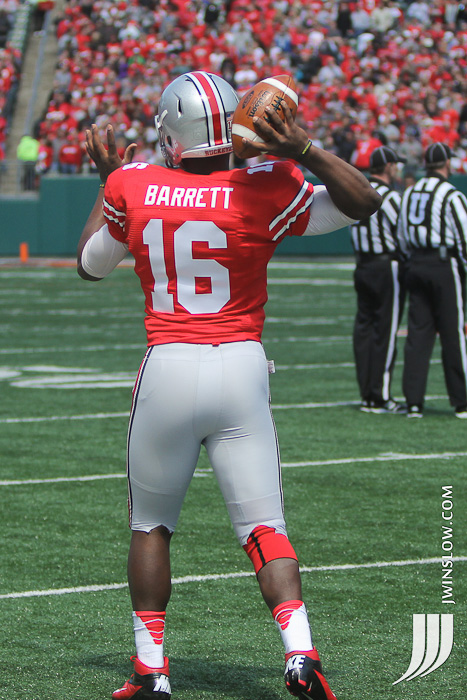 As we all know now Braxton Miller the star senior quarterback is out for the season after reinjuring his surgically repaired shoulder. Miller has surgery during the off season and was expected to be ready for week 1. Miller was a top Heisman hopefuls this year and the leader of the very talented Ohio State Buckeyes, who are ranked fifth in the preseason polls.
The Buckeyes were selected by many to have a high possibility to make the new college playoff and with the news of Miller's injury a lot of that talk has calmed down. Between shock value and hoping today would bring some good news, we've forgotten that the Buckeyes are stacked with talent everywhere. A man down is another man's opportunity. That is where redshirt freshman J.T. Barrett comes in, for those that don't know J.T. stands for John Thomas and we share a common nickname so I'm rooting for the kid. J.T. hasn't played a single down yet, but has overtaken sophomore quarterback Cardale Jones for the backup aka the starting position. Barrett was a four star recruit so he's not chopped liver and he's also a dual threat quarterback. He's from Texas and those that follow Texas preps know they play ball down there.
The Buckeyes have a lot of talent at the skill positions: Bri'Onte Dunn, Ezekiel Elliott, Jeff Heuerman, Jalin Marshall and Dontre Wilson just to name a few. If J.T. can make the proper plays and no become a turnover machine the Buckeyes will still have a shot at National Championship talk at the end of the season. I know it's early so he could either sink or swim and that's why they play the game. If J.T. takes the bull by its horns the Buckeyes will be able to salvage this season.
In a few months will be able to see if I was crazy for giving hope or right!!