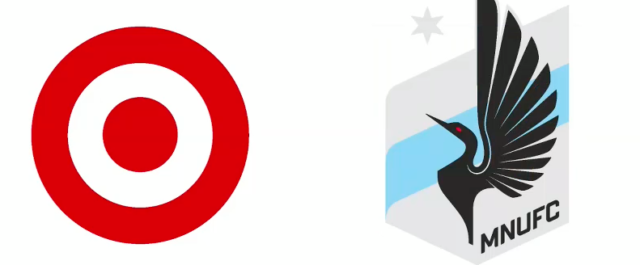 AT&T, Wells Fargo, Heineken, Coca-Cola, Allstate, Etihad Airways, Audi.
Now – Target.
On Thursday, the league announced Target as their latest addition of corporate sponsors. On top of the league-wide deal, MNUFC will suit up with the iconic red and eye bulls-eye displayed on the front side of their kit.
Target is already involved in the action sports scene, but partnering with MLS signifies its largest push into the sports world.
"There are so many things that drew us to soccer – it's multicultural, watched and played by families and is growing immensely in popularity," Rick Gomez, Target senior vice president of Marketing said in a statement.
This partnership will include "brand integration across platforms, including broadcast, digital, video, content, in-stadium and on-site activation at marquee MLS events," per MLS.com.
Target currently holds naming rights partnerships with two Minnesota sports facilities: Target Field and Target Center – home of the Minnesota Twins and Minnesota Timberwolves, respectively.
When it comes to the kit sponsorship, on field branding and in-stadium activation rights is also included in the bundle. The Target brand will be on display at TCF Bank Stadium throughout the inaugural season.
Minnesota United will commence playing in MLS this March, after years of playing in the United Soccer League. The team has already sold more than 8,000 season ticket deposits and will join the Eastern Conference with ex-Orlando City coach Adrian Heath.
"We look forward to helping launch Minnesota United FC to the world and bring soccer to the Twin Cities, which has been Target's hometown for more than 50 years," said Rick Gomez, senior vice president, Marketing, Target. "Target has a long history of supporting our local teams and are proud to be part of Major League Soccer's expansion into the Twin Cities this year."