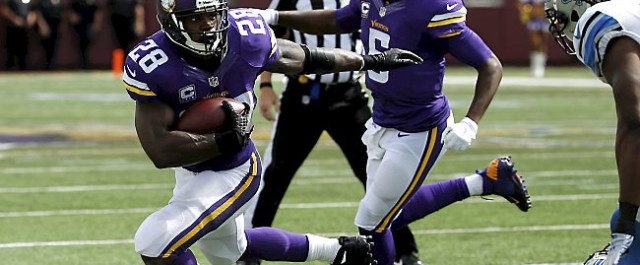 It's been a rough couple of years for me as a Minnesota Vikings fan to say the least. For as long as I can remember I've been a fan of purple and gold. Being a Laker fan is in my DNA, my dad rocked with the Showtime Lakers, and he still believes Magic is the GOAT. My grandpa rocked with Wilt, West and Baylor, and I carried the family tradition rooting for Kobe Bryant. My high school colors were also purple and gold. The colors were fitting, and it just was always there. Right now my focus is on another purple and gold team I happen to love though, that featured arguably one of the best running backs in NFL history–Adrian Peterson. It's likely we'll lose running back Peterson for good, our franchise player since 2007.
Somewhat controversial at times, but undeniably talented Peterson was the face of the organization before President Obama came into office (feeling old yet?). Personally but probably factually also, Peterson has been the reigning top back in the league since being drafted in 2007 out of Oklahoma. There have been others who challenged the title (Chris Johnson, Steven Jackson, Jamaal Charles, Marshawn Lynch) but none had his longevity. The odd thing about him was he bounced back from serious injury better than ever. The average NFL career span is only a few years and even shorter for a running back. They literally have a collision on each possession. Not to mention the position is becoming increasingly extinct as the league is transitioning to a pass 1st 2nd and 3rd league.
He's ran for 11,747 yards all in Minnesota. There is a lot of tread on those tires and he will be 32 years of age tomorrow, ancient for a starting running back. He's coming off of a right lateral meniscus injury that shortened his 2016 season in which he rushed for only 72 yards. With those things I completely understand why management cannot afford to pay what he's asking for to bring him back it just does not make sense. Farewell Adrian I hope you rush for 2,500 next season where ever you end up.