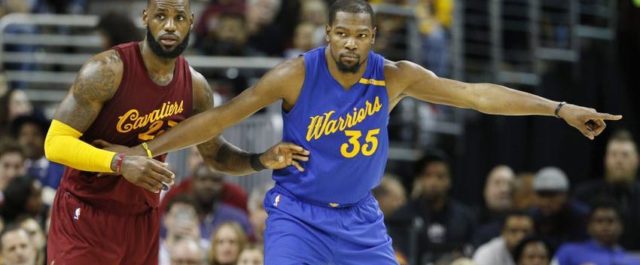 So at the beginning of the season everyone thought Golden State and Cleveland were on a collision course to playing in the NBA Finals for three seasons in a row. With the Cavs being in the weak Eastern Conference and being the place that LeBron James calls home you had to agree they were the favorites in the East. In the West the Warriors added Kevin Durant to the same team that has Steph Curry, Draymond Green and Klay Thompson. Seems like a video game right?
The Cavs played like crap in the second half of the season, but we all knew that was because of injury, rest and inserting new pieces to the equation. Kevin Love was out for a few months due to injury as well as J.R. Smith, they had to incorporate new members Deron Williams, Kyle Korver, Derrick Williams and Andrew Bogut (Bogut only got to play a few minutes before suffering a season ending injury). They even allowed the Celtics to claim the number one seed in the East, but it hasn't mattered because they have swept the Pacers and Raptors. They will face the winner of the Wizards-Celtics matchup that is currently 3-2 Celtics, but will make easy work with whichever teams survives their current series. So, unless something crazy happens this season the Cavs will be going to the finals.
In the West, the Warriors have had a good season, they dealt with Kevin Durant escaping a season ending knee injury. They struggled for a hand full of games to adapt without KD, but once they found stride it was the worst thing that could've happened to the league because now they remember how to play without KD on the floor. (Losing Harrison Barnes and adding Durant isn't fair) JaVale McGee has been very solid off the bench, something before the season nobody predicted. Like the Cavs, the Warriors have swept the Trail Blazers and Jazz and are waiting on the winner of the Spurs-Rockets series that the Spurs are currently up 3-2. I personally think the Rockets would be a more interesting matchup for the Warriors because of their style of play, but even with that said I couldn't see it going past five games.
So like most predicted before the season, the Cavs and Warriors will be facing each other for the third time in a row in the NBA Finals. The question is who gets the tie breaker? The series is knotted at one. Can the Cavs handle the all-star studded Warriors? Of is LeBron and his all-star crew kryptonite for Golden State? In June we will find out because neither the Wizards, Celtics, Spurs nor Rockets can stop this third NBA Finals matchup. The writing is on the wall pleighboi.