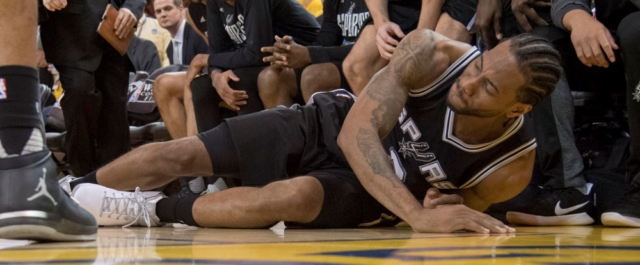 The San Antonio Spurs were opening a can of whoop a** on the Golden State Warriors in the Oracle Arena on Sunday (Mother's Day) by the tune of 23 points when Kawhi Leonard landed on Zaza Pachulia when shooting a jump shot in the left corner. Eventually the Warriors went on a Warriors run and won the game 113-111 to steal Game 1.
If Leonard can't play or is slowed because of the ankle the Spurs have no chance in this series. The Spurs were the underdogs before the injury and rightfully so, but if they wanted to pull the upset they need Leonard to be at 110% and unless he's Wolverine that is probably not happening.
Do y'all think it was a dirty play by Zaza? Let us know and the comments.
Check out the play that got him reinjured and him talking after the game.