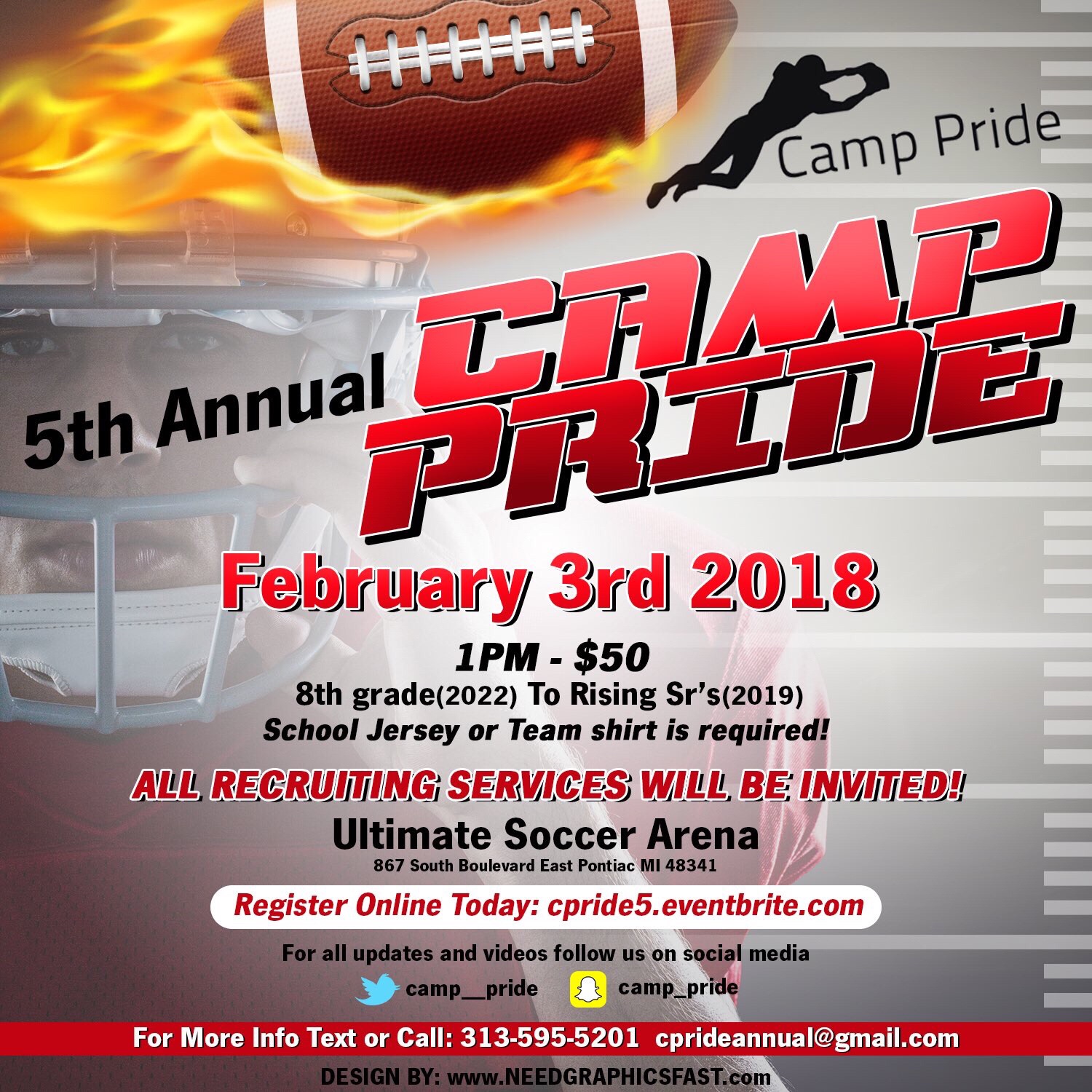 On February 3rd, 2018, some of top talented high school players in the state of Michigan and the Midwest will be able to showcase their skills at Camp Pride for the 5th year in a row. There will be hundreds of participants, which include several players with offers from some of the top universities in the country.
Unlike most showcases, the players will be able to represent their high schools as they are allowed to wear their jersey's, t-shirt, shorts, or anything that represents their school. Last year's showcase was a can't miss event, and 2018 will likely follow suit. Here are some of the participants and coaches that are expected to be in attendance.
Participants
Abdur Rahmann-Yaseen, WR, Walled Lake Western
Cameron Martinez, ATH, Muskegon
Makari Paige, S, West Bloomfield
Dequann Finn, QB, Detroit King
Ruke Orhorohor, DE, River Rouge
Dustin Fletcher, QB, Flint Carman-Ainsworth
Michael Fletcher, DE, Flint Carman-Ainsworth
Marvin Grant, S, Detroit King
Jordan Anderson, DB, East English Village Prep
Andre Seldon Jr, DB, Belleville
Anwar Jackson, RB, Southfield
Lance Dixon, ATH, West Bloomfield
Jaren Mangham, ATH, Detroit Cass Tech
Aidan Harrison, ATH, Flushing
Sam Johnson, QB, Walled Lake Western
Rashawn Williams, WR, Detroit King
Dylan Zagula, LB, Belleville
Devell Washington, WR, Bay City Central
Lemeuel Watley, ATH, East English Village Prep
Tre Mosley, WR, West Bloomfield
Maliq Carr, WR, Oak Park,
Roderick Heard, DB, Farmington Harrison
Khalil Dawsey, DB, Birmingham Groves
Cornell Wheeler, LB, West Bloomfield
Justin Whitehorn, RB, Renaissance
Jalen Williams, WR, Belleville
Guest Coaches:
DeAnthony Arnett
Justice Hayes
Williams Cooper
John Vickers
h/t to D1Freak for last year's footage.