Yesterday, Social Media was jumping with all the rumors going around, will the Cleveland Cavaliers trade for Jimmy Butler or Paul George? Will they sign Chauncey Billups as their new General Manager? Why did they let David Griffin walk? Are the Los Angeles Lakers trading for Paul George?
We thought trade talk was a lot of bluffing, but nope, the Lakers traded young guard D'Angelo Russell and overpaid center Timofey Mozgov for center Brook Lopez and the 27th pick of Thursday's NBA Draft. I personally don't get why the Lakers traded Russell he is only 21 and has shown flashes of a guy who can be a star in this league, I do like acquiring a pick in this year's draft and getting that terrible Mozgov contract off the books. Getting Lopez you get a good scorer with an expiring contract so it gives them more flexibility in the summer of 2018, but I don't like giving up a talented asset in doing so. The Lakers could've prevented this if they just would've used their money wiser last summer so they better hope whatever plan they have works out because if they want to get out of the Luol Deng contract another young asset will have to go with him too and all eyes point to Julius Randle or Jordan Clarkson as the asset to go with Deng and that terrible contract. After my fandom gets out of the way this was a no-brainer move for the Nets you get a young player you can build around in a major market.
The Atlanta Hawks traded Dwight Howard and the 31st pick to the Charlotte Hornets for Miles Plumlee, Marco Belinelli and the 41st pick. Bruh, so Howard got traded for Miles Plumlee? Man, soooo many jokes are flowing right now, he hasn't been right since Orlando and he forced himself out of a solid situation. He was once viewed as the best center and now he is a journeyman that has been on a million teams since 2012 (only four, but still). How will he do in Charlotte? At least it is a fun city, right?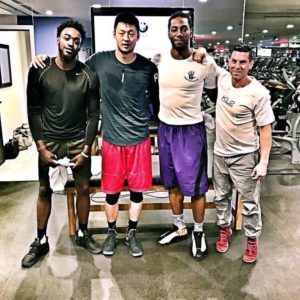 After being pissed that the Lakers traded Russell, a picture surfaced online that showed San Antonio Spurs star forward Kawhi Leonard cut his braids off. Yeah, I'm shocked as everyone else, this has been a crazy off-season and it is only been seven days sense the season ended. What is next? I personally don't think anything is toping Kawhi cutting his braids. I know LeBron finally started rocking the Kobe cut, but this move takes the cake.
I'm curious what happens next?
Read More