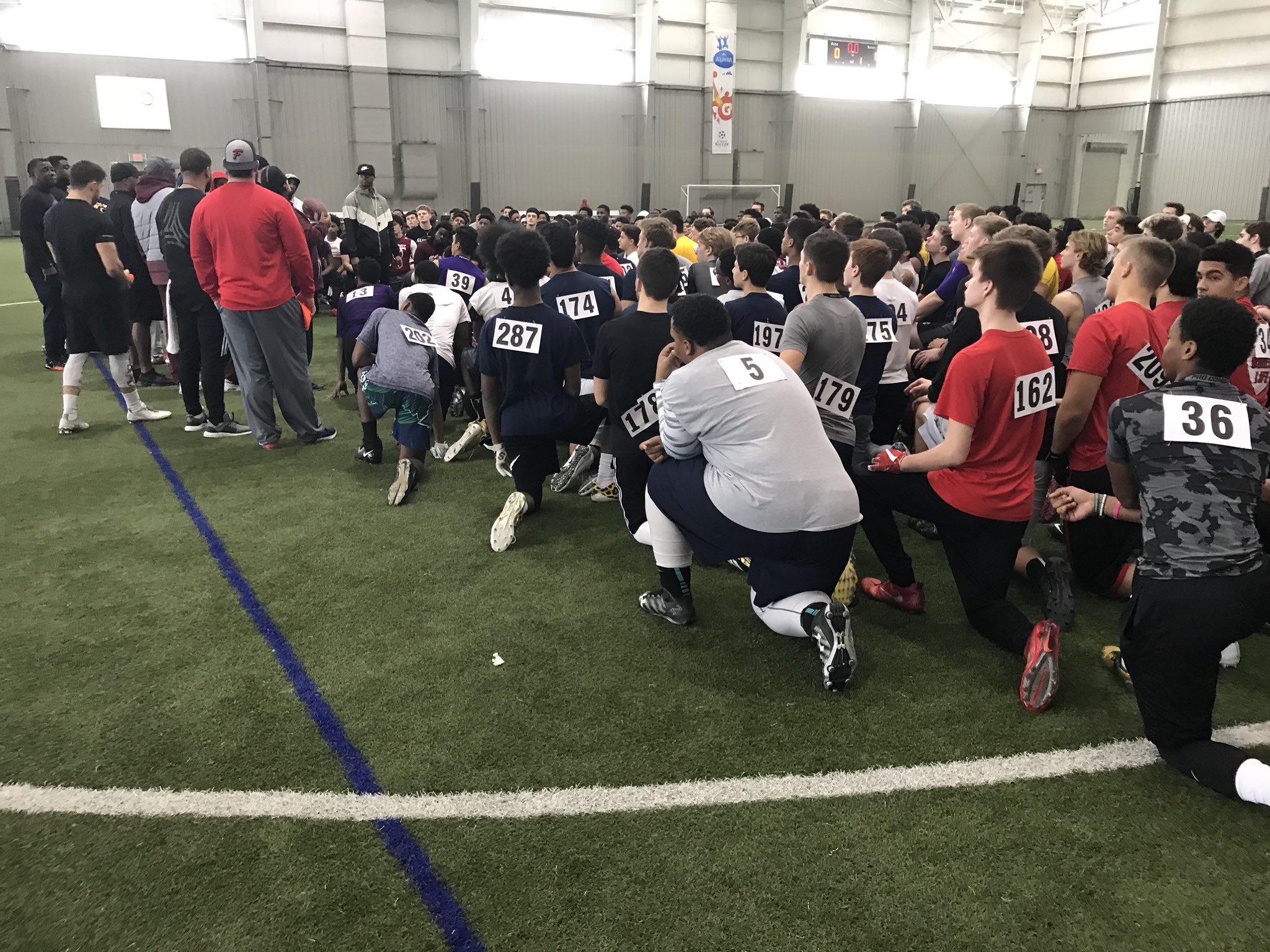 Pontiac, Michigan– Camp Pride kicked off their showcase for the fifth year in a row. To no surprise, there were several of the top players in the state of Michigan as well as some who are looking to gain some exposure. Unlike many showcases, the offensive and defensive linemen were the most entertaining group to watch, but the skill positions didn't disappoint as well. Let's look at the some of the performers and others that caught our attention.
Sam Johnson, Quarterback, Walled Lake Western
Fresh from receiving an offer from Michigan showed Johnson, exhibited why he is arguably the top quarterback in the state. Johnson, displayed a smooth throwing motion, arm strength, and pinpoint accuracy throughout the day. Although Johnson didn't win the offensive MVP, he was far and away the best prospect in attendance.
Andre Seldon Jr., DB, Belleville
Seldon Jr. bothered just about every wide receiver he lined up against. What he lacks in size, he makes up in heart, Seldon is the true definition of heart over height.
Danny Motowski, OL, De La Salle
If you were to go into a foxhole, Danny Motowski is someone that you want to have on your side. Motowski shined during drills as well as one-on-ones. Throughout the day, he displayed his strength and quickness that makes him one of the top offensive linemen in the state.
Don Price, DL, Oak Park
Price was a bright spot throughout the day. His low center of gravity allows him to dominate offensive linemen. With a combination of his brute strength and a relentless motor, Price is a lot to handle.
Jermaine Trammell, DL, Detroit Denby
Much like Price, Trammell was dominant against just about anyone that was in front of him. Throughout the day, he showed why he will be regarded by some of the top universities in the country.
Malcolmb Baker, WR, Walled Lake Western
Baker embodies the wide receiver position like no other. From his on the field swagger to his cat-like quickness and soft hands, he was a tough cover for all of the defensive backs throughout the camp.
Marquez Trusel, WR, South Lake
Trusel stole the show when it came to wide receivers. During individual drills, he separated himself from the pack by displaying an array of skills. Trusel was awarded the offensive MVP of the camp.
Ruke Orhorhoro, DL, River Rouge
If you didn't know any better, you would have thought Ruke Orhorhoro was an adult playing against children. The physical specimen, who holds 15 offers showed why he is arguably the best defensive lineman in the state, regardless of class. Orhorhoro was awarded the defensive MVP of the camp.
Best of the Rest:
Aidan Harrison, Flushing
Anwar Jackson, Southfield A&T
Anthony Romphf, Southfield A&T
Myles Rowser, Belleville
Unique Houston, Bay City Central
Jayon Stephenson, Saginaw Arthur Hill
Khalil Dawsey, Birmingham Groves
Josh DePaulis, Divine Child
Emanuel Ferguson, River Rouge
Jacob Dobbs, De La Salle
Markis Alexander, Birmingham Groves
Shondell Hardnett, Detroit King
Rod Heard, Farmington Hills
David Carter, River Rouge
Justin Gabriel, Walled Lake Western
Chris Robinson, Renaissance
James Drain, EEVP
Tanayshio Dones, Carman Ainsworth
Jeremiah Major, Dakota
Arsell Weary, Franklin
Davion Weatherspoon, EEVP
Dontrell Walker, River Rouge
Rodney Johnson, Ferndale
Josh McCarty, St Mary's
Damondez Stone, Belleville
Maleik Linton, Monroe
Devell Washington, Bay City Central
Joshua DeBerry, De La Salle
Raequan Beal, Renaissance
Erik Hubbard, Romulus
Dwayne Harris, Southfield A&T
Terryon Liddell, Swan Valley
Dorian Wesley, Woodhaven
Eddie Griffin, EEVP
Deondric Sanders, Swan Valley
Alex Fries, Swan Valley
D. Alex Short, Cranbrook
Danny Flies, Cranbrook
Congrats to @marquez_trusel & @D1ruke for winning the offensive and defensive MVP at @Camp__Pride#cpride5pic.twitter.com/gkjX1Mq2DE
— The Front Office (@FrontOfficeNews) February 3, 2018
It's going down!!! @Camp__Pridepic.twitter.com/mwhbkVHaF9
— The Front Office (@FrontOfficeNews) February 3, 2018
A look at @SJ3_theFuture in QB Drills at @Camp__Pridepic.twitter.com/11r7PxsNub
— The Front Office (@FrontOfficeNews) February 3, 2018
A look at @KhalilTheThrill completing agility drills. pic.twitter.com/kv1Y35TDvO
— The Front Office (@FrontOfficeNews) February 3, 2018
The big fellas are putting in work at @Camp__Pride#cpride5pic.twitter.com/bDMX6IdohG
— The Front Office (@FrontOfficeNews) February 3, 2018
.@justin_gabriel8 with the @OBJ_3 esque catch @Camp__Pride#cpride5pic.twitter.com/n7mThvu6GS
— The Front Office (@FrontOfficeNews) February 3, 2018
@AndreSeldonjr#cpride5https://t.co/HingmyHWck
— The Front Office (@FrontOfficeNews) February 4, 2018