It's March and everyone knows that means March Madness. While the NCAA  tournament  is just a little over a week a way the madness always  starts a week earlier with conference tournaments.
The conference tournament is the time for teams to improve their possible seedings or bubble teams to play their way into the tournament. It means a lot for the one bid mid major conferences that have to when the conference tourney to get into the "Big Dance". It's also a chance for teams in power conferences that might have under achieved during the season, but are good enough to run the gauntlet and earn an automatic berth into the tournament.
These are the probable NIT bound teams with a serious shot a tourney glory:
West Virginia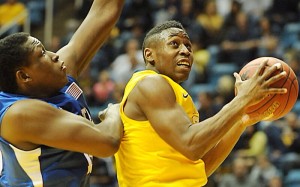 The Mountaineers have a record of 17-14(9-9). It's safe to say they look like a NIT team this year, but they could very well run the table in the Big 12 tournament and get into the Big Dance. They have wins over for sure dancers in the conference like Baylor, Kansas St., Iowa St., and Kansas. They also have one of the best players the country may not have heard of in Juwan Staten who averages 18pts 6reb and 6ast.
Marquette
The Golden Eagles are 17-14(9-9). They were the pre season favorite to win the big east and could use the conference tournament to get back on track. They were able to beat every team in conference except Villanova and Creighton, but an upset here or there could put them in perfect position for a tourney bid.
Indiana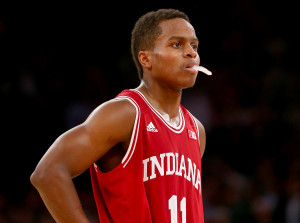 The Hoosiers have a record of 17-14 (7-11) Indiana lost key pieces off of last year's number one seeded team. They restocked with a lot of young pieces and they have finally started to come together and play well. The Hoosiers will be a difficult out in the Big Ten tournament led by point guard Yogi Ferrell.
UNLV
The Rebels are 19-12 (10-8) UNLV was supposed to be part of a three headed monster in the Mountain West. San Diego State and New Mexico held up their end of the bargain, but the Rebels have underachieved. They have just as much talent as anybody in the conference and a ticket to the dance might be the motivation to get the Rebels running again.