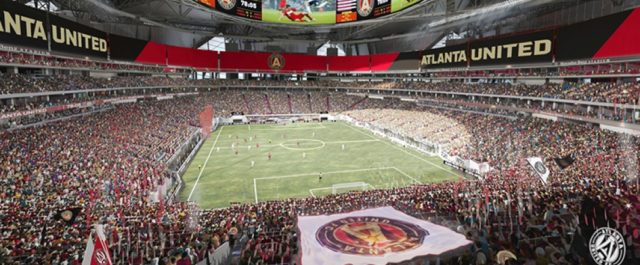 Another MLS season is ahead of us. Another two teams joining the party. Minnesota United and Atlanta United are about to field their starting XI for their inaugural season, and while excitement from supporters and critics alike surround each organization's debut, Atlanta United has made headlines specifically for paving its own path. From the players to the stadium and everything in between, AU is turning heads and refuses to follow the norm.
Old stadium not suited for soccer? Nah, they'll pass.
When you look at original franchises like New England & DC United, a soccer specific stadium is still lacking. When these games are televised, the matches are less eccentric with the stadium half empty. These football stadiums are simply not designed to host soccer matches and aren't downsized properly when the whistle blows. A similar thing can be said about Orlando, who played their first two seasons in a football stadium. Orlando filled the seats, but one could occasionally see the football lines which ruined the aesthetic. NYCFC currently plays in an MLB stadium and faces challenges such as an insanely small field and implications due to transforming the field back and forth.
United is set to play its first eight home games at a temporary location, Georgia Tech's Bobby Dodd Stadium. Although come summer 2017, the Mercedes-Benz Stadium will become the official home. The new world class stadium will host both the Atlanta Falcons and Atlanta United and looks to accommodate both accordingly.
Arthur Blank, the owner, says sharing the field between teams wont be a problem. "There will never be an MLS game in Atlanta where NFL lines are shown on the field."
Notable features include a retractable roof, a 360 degree screen, a 70,000 seat capacity which will be downsized to 30,000, retractable stands to expand field size, and curtains that will hide the upper level seats enabling an intimidating atmosphere.
For more details about how they're changing the game day experience for fans, you can dive into it below!
http://www.atlutd.com/post/2016/05/16/home-atlanta-united-mercedez-benz-stadium-begins-revolutionizing-guest-experience
Retiring DP's? Nah, they'll pass.
A common trend among the league has been to sign older, veteran players from across the globe. In most cases, its simply to market the club. We can take a closer look at NYCFC. Signing Frank Lampard and Andrea Pirlo boosted ticket sales no doubt, but the performance on the field was not what the supporters were expecting – playoffs were not reached.
Atlanta is paving its own path; United has used its three Designated Player spots on young players. How young? All in their early 20's and mostly all from the Argentina first division. Miguel Almiron was one of their first signings and was revealed as Atlanta's number 10. The young man, 23, was sought after by several European clubs and has 7 appearances for the Paraguayan national team. His previous club was Lanus in Argentina's first division.
The other two signings were Hector Villababa and Josef Martinez. Villababa is a 22-year-old midfielder from San Lorenzo playing in the Argentina first division, while Martinez is a 23-year-old forward currently on loan from Italian side Torino. Martinez actually suited up for Venezuela during CONMEBOL World Cup Qualifying and sits fourth in the leading goal scorer table with five goals.
other distinguishing young signings:
Yamil Asaad, attacking midfielder, age 22, on loan from Argentina first side Velez Sarsfield
Anton Walker, defensive midfielder, age 20, on loan from Tottenham
Leandro Gonzales, defense, age 24, has played for multiple first division teams in Argentina, accumulating more than 100 first team appearances
Coach with previous MLS experience? Nah, they'll pass
Sigi Schmid and Adrian Heath were names being thrown around late last year and speculation soon grew if they would return to the league. I was sure Atlanta would make a logical choice and go with one of those guys, having previous MLS experience.
Then I woke up one early morning, one eye opened, scrolling down my twitter feed.
"Gerardo "Tata" Martino named head coach of MLS expansion side Atlanta United"
I literally was in awe.
If you're not familiar with Tata's resume, all you need to know is that he coached at Barcelona (runner up in Copa Del Rey and La Liga) and the Argentina national team (led his side to Copa America final and Copa America Centenario final)… yea, no MLS experience but I am not complaining. Martino is known for his attack minded, high pressing football and it will be interesting how his playing philosophy fairs in MLS.
As for what the players and media are saying, he's a very affable man.
"[Martino's] been great for us. He's really been open with his communication. He's made it clear he wants it to be physical, he wants it to be intense on the field. But off the field he's very approachable. He's working on his English and we're all working on our Spanish and we're making it work," says Parkhurst, 33, recently named captain of AU.
The journey ahead is long, my friend.
Listen, I am as hyped as you guys are to see these plans come to fruition. Everything is lining up perfectly for this organization to have a great season and maybe…maybe reach playoffs; previous expansion sides have not had that luck.
Precisely six MLS expansion teams have failed to finish above the red line come postseason since Seattle in 2009. This includes in 2015 with NYCFC (Villa, Lampard, Pirlo) and Orlando City (KAKA!!). Tata is yet to learn the elements of MLS and they have proven to be tricky ones. United is definitely looking to be a menace on and off the field but one can't be too optimistic.
With the season starting in a few weeks, preseason is looking pretty good.
On February 12th, Atlanta played their first game ever… and they're already scoring GOLAZOS. Check out the vid below.
Did someone say upper 90? ⚽#SCtop10 | #UniteAndConquer pic.twitter.com/lkcdHmcWIg

— Atlanta United FC (@ATLUTD) February 12, 2017