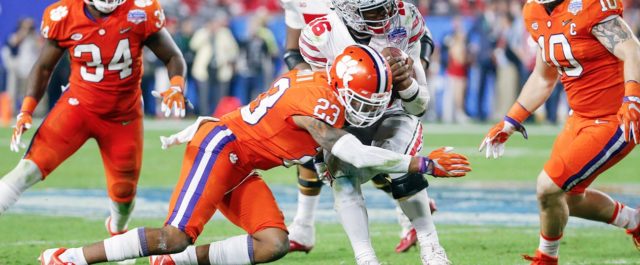 Saturday December 31 was a tough time to be a Washington Huskies or Ohio State Buckeyes fan. As an alum it kind of put a small damper on my New Year celebration (just a little).
Both programs had high hopes going into the playoffs. The Huskies looking to prove they can play with top programs and the Buckeyes looking to continue being one of college footballs powerhouses.
No moral victories earned on Saturday, though the Huskies earned respect as they competed with Goliath Alabama in what many felt would be a blowout they just could not get there offense going. The Buckeyes on the other hand may have set their conference back with the performance they gave.
There are about 7 college football programs that are downright spoiled. I'll go with Alabama, Ohio State, Oklahoma, Florida, Texas, Michigan and USC. These Schools have rich football history and tradition and expect a National championship every year.
Two or three loss seasons are seen as failures. They do not have rebuilding seasons or down years and they beat their rivals by hundreds of points. Celebrated coaches get walking papers if they ever let the competition gain on them.
Ohio State lost to Clemson 31-0. That's right Brutus was whitewashed. OSU never got on the board. One of the worst parts of this loss was that Clemson gave OSU bulletin board material and still beat them decisively.
They talked about not being worried about the competition and even badmouthed JT Barrett's abilities. Then they went out and seemingly backed up all the chatter. OSU couldn't run the ball, pass the ball or make a fg. Defense can only play its part for so long.
After the game I had a chat with my dad where he was upset saying if this happens again it may be time for Coach Meyer to go. I love my dad but with all due respect he's crazy. Urban literally has a better record than any college football coach in as many games since joining the Buckeyes. Fire him and go in what direction?
Everybody just relax and take your lumps, we all fall. In the words of pops "you win some, you lose some but you live, you live to fight another day."