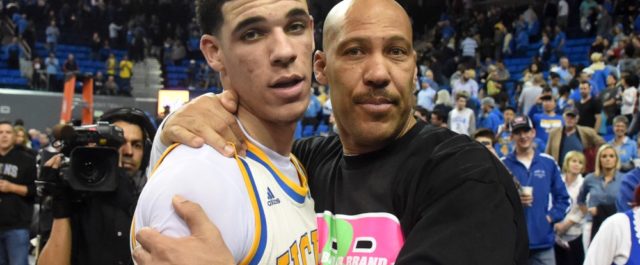 If you haven't had a TV or a smart phone in the last year or so then maybe you haven't heard of LaVar Ball. I'm guessing you have both devices and probably more electronic devices it is just the way of the world currently. Ball a former college basketball player has three sons all are going or have went to UCLA (Lonzo, LiAngelo and LaMelo), so his profile has grown within the last 365 days.
Lonzo had a sensational freshman season at UCLA and has declared for the NBA Draft, no matter who you speak to they all say he will be a top 5 pick and probably number one or two in this June's draft. As good as Lonzo is on the court his father is even louder off the court, from bringing up LeBron James kids in an interview, from going at Charles Barkley, to saying he can beat Michael Jordan in one on one (Not Michael B. Jordan either smh), speaking with Stephen A. Smith on First Take, saying UCLA lost because of the Caucasian players being too slow and the lists goes on and on. He is a walking and talking media story, if you need something to talk about just seek out LaVar and he will help you get some views and some buzz around your timeline or site, it damn near seems like the Ball way.
LaVar wants a major shoe company to co-brand with Big Baller Brand for the tune of 1 billion dollars, that isn't a typo, Adidas, Nike and Under Armour have already declined. All three major brands would've loved to sign Lonzo to a 4-5 year deal at 1-2 million per year, but the ambitious LaVar has halted that aspect of income. If the co-branding deal is going to come about it will have to be from a foreign shoe company like Anta, Li-Ning or Peak (just to name a few). Lonzo is a hell of a talent, but to get a co-branding deal without setting the NBA on fire is pretty much insane, no other superstar player was able to leverage a deal of that sort without playing a single game.
That brings us to last week when Big Baller Brand dropped the Zo2: Prime for a whopping $495 you can get them preorder, but they won't be shipping out until November. You can get a pair autographed for $995, a steal right? Would you buy them?
Now that we know that LaVar is certified crazy, I will say I like what he is trying to do by getting him and his family more of the cut, but as a person that watches the industry on a pretty close basis he didn't take the right angle to make sure this gets done. Unless, UNLESS a foreign shoe company saves them and co-brands, which is possible because none of those companies get young stars so they may break the mold and if that happens it could be a free for all if Ball gets his way.
Personally I think if LaVar should've let Lonzo take the big company deal, prove himself to be a legit asset in the NBA, he could've possibly made the deal work on the back end of the first deal, but unless you are in the LeBron, Jordan and or Kobe air then it is hard for this to work.
If you pay $495 for some Zo2's you need to slap yourself and I have some land to sell you in North Dakota if you want to throw your money away.
If this plan doesn't work then will any of the big companies take Lonzo on a regular shoe deal? If I was a betting man they would, but it won't be for major money and if that happens to be the case LaVar will cost his son legit income in endorsements. With that being said I feel the angle (pause), but the execution is sloppy.